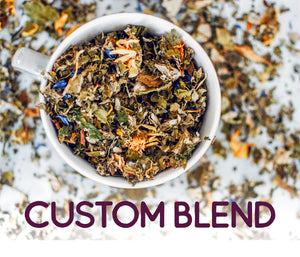 CUSTOM BLEND - Make Your Own DIY Herbal Tea! Choose from any of our organic medicinal & tea herbs
Let me make a custom tea blend just for you! You choose the ingredients and I'll make it fresh just for you!

I offer custom blends because I know how expensive it can be to source a variety of high-quality organically grown herbs for your personal needs in amounts you'll actually use, and I want an affordable option to be available for anyone looking for a more personalized tea blend. In order for me to continue to be able to offer these at an affordable price, please respect the time and costs that go into making custom blends and be sure to read the notes outlined below.

Please note that this is YOUR customized tea blend, which I am making to your specifications. If you're not entirely sure what ingredients you want in your tea or you need some assistance with formulating your blend, please message me BEFORE placing your order to see if that it's something I can help you with. I can only offer custom blends at this price if you select the ingredients (or at least most of the ingredients) yourself - it's simply not feasible for me to formulate a new blend for you with vague guidelines, broad specifications, and particularly for specific health outcomes if you don't already have some ingredients in mind. Please respect that tea blend formulation for specific flavors and/or health outcomes is normally a timely and costly process. If you're looking to make a tea to help with a specific health condition and you don't know where to start, I recommend consulting with an herbalist or health professional for recommendations. I don't currently offer personal consultations and without knowing your specific health history, please don't ask me to formulate a tea for you to lose weight, lower blood pressure, or help with your individual hormonal imbalances. But if you've done your own research, consulted a medical professional, or already have a good idea in mind of what herbs might be best for your needs, please DO choose your ingredients from the long list of herbs we carry so that I can get started on making your very own tea! :)

A tip if you're still unsure: Many customers like to start with an existing tea blend (whether it's one of ours or from another company) and just swap out or omit specific ingredients that don't work for them (or add an herb or two that do).

It typically takes weeks or even months of development and many test batches and trials before I finalize one of my signature tea blends to ensure its potency and especially its flavor. At the price at which I am offering these custom blends, and given the time and costs that go into them, it's simply not feasible for me to test and trial them. Not all herbs taste great, and while I do my best to create your blend to be as palatable as possible, the ingredients you select may not always result in a pleasing or flavorful blend, especially without the aid of flavorings that most tea companies use in their products. If you are trying to recreate an existing product, please be aware that it is highly unlikely that I will be able to get a similar flavor based on an ingredient list without the specific proprietary recipe and proportions. It is ultimately your responsibility to ensure that the herbs you choose for your blend are well-suited to your needs and your taste. ALL SALES ARE FINAL FOR CUSTOM BLENDS.


***A few more notes about custom blends:

- While I typically have the following herbs on hand, please message me before placing your order if you want to be sure I can fulfill your needs.
- Please limit your blend to a maximum of 10 different herbs.
- Unless specifically agreed upon otherwise, I reserve the right to decide on the proportions of your chosen herbs when creating and mixing your blend. I do this to maximize medicinal properties and to ensure that your tea is palatable. If you want your blend to be heavy or light on specific ingredients, please make a note of that. :)
- All custom blend sales are final. As I am simply creating a blend to your specifications and without the normal product development process, I cannot make any claims or promises about the finished product. It is the responsibility of the buyer to ensure that the herbs you choose for your blend are well-suited for your body, your needs, and your taste. If you have any questions about the flavor or any other properties of any of our herbs, please ask!
- We pride ourselves on shipping out our products as quickly as possible, but due to the customized nature of this product, please allow a few extra days for me to create your blend. Thank you! <3
- Any other questions? Just shoot me a message! :)


Choose from the following herbs:
--- All our ingredients are certified organic, except where marked with an *asterisk, in which case the herb has been ethically wildcrafted straight from Mama Earth herself ;) ---

Allspice Berries
Amla (Dried Indian Gooseberry)
Anise Seed
Apple (Dried Pieces)
Ashwagandha Root
Astragalus Root
Barberry Root
Blackberry Leaf
Brahmi Leaf (Bacopa)
Burdock Root
Butterfly Pea Flowers
Calendula Flowers
California Poppy
Cardamom Pods
Cardamom Seeds
Carob, Roasted
Cat's Claw Bark*
Catnip Leaf
Cedar Tips (Thuja plicata)*
Chamomile Flowers
Chicory Root, Roasted
Cinnamon
Cloves
Cocoa Nibs, Roasted
Cornflowers
Damiana Leaf
Dandelion Leaf
Dandelion Root, Raw
Dandelion Root, Roasted
Devil's Claw Root - TEMPORARILY OUT OF STOCK
Dong Quai Root (Angelica sinensis)
Echinacea Purpurea Herb & Flower
Echinacea Purpurea Root
Elder Berries, Dried
Elder Flowers
Elecampane Root
Eleuthero Root (Siberian Ginseng)
Epimedium Leaf (Horny Goat Weed)
Fennel Seed
Fenugreek Seed
Feverfew Leaf
Fo-Ti Root (Traditionally Cured, Contains Soy)
Ginger Root
Ginkgo Leaf
Goji Berries
Goldenrod
Gotu Kola Leaf 
Grapefruit Peel
Green Rooibos
Gymnema Leaf
Hawthorn Berries
Hawthorn Leaf & Flower
Hibiscus
Holy Basil, Krishna (Ocimum tenuiflorum)
Holy Basil, Rama (Ocimum tenuiflorum)
Holy Basil, Vana (Ocimum gratissimum)
Honeybush
Hops Flowers
Hyssop
Lavender Flowers
Lemon Balm
Lemon Peel
Lemon Thyme
Lemon Verbena
Lemongrass
Licorice Root
Linden Leaf & Flower
Lungwort
Marshmallow Root
Meadowsweet
Milk Thistle Seed
Moringa Leaf
Motherwort
Mugwort
Muira Puama Bark*
Mullein Leaf
Nettle Leaf
Oatstraw
Olive Leaf
Orange Peel
Oregano Leaf
Papaya Leaf
Passionflower
Peppermint Leaf
Plantain Leaf
Prickly Ash Bark*
Raisins, Dried
Raspberry Leaf
Red Clover Leaf & Flower
Rooibos
Rose Petals
Rosehips
Rosemary Leaf
Sage Leaf
Sarsaparilla Root*
Schisandra Berries
Shatavari Root
Skullcap Leaf
Slippery Elm Bark
Spearmint Leaf
Stevia Leaf
Strawberry Leaf
Sumac Berries
Tea, Black - Earl Grey
Tea, Black - English Breakfast
Tea, Black - Orange Pekoe
Tea, Green - Earl Grey
Tea, Gunpowder Green
Tea, Young Hyson Green
Turmeric Root
Usnea Lichen*
Valerian Root - TEMPORARILY OUT OF STOCK
Vitex (Chaste Tree) Berries - TEMPORARILY OUT OF STOCK
White Willow Bark
Wild Cherry Bark - TEMPORARILY OUT OF STOCK
Wild Lettuce Leaf
Wood Betony Herb
Yerba Mate Leaf
Yerba Santa Leaf*
Yucca Root*

---

***DISCLAIMER: Please note that I am not a licensed medical professional and none of the products I make and sell are intended to treat or cure any specific condition or disease. While I base my products off of the traditional use, lore, science, and generally accepted knowledge of specific herbs, I make no claims as to the efficacy or medicinal properties of any ingredients and any descriptions provided are purely for informational purposes. I cannot offer medical advice and always recommended consulting with a medical professional if you have any medical conditions or are taking any medications before taking any herbal products. Especially for custom blends, it is ultimately the responsibility of the customer to ensure that the herbs they choose are well-suited to their needs, bodies, and taste.
---
We Also Recommend